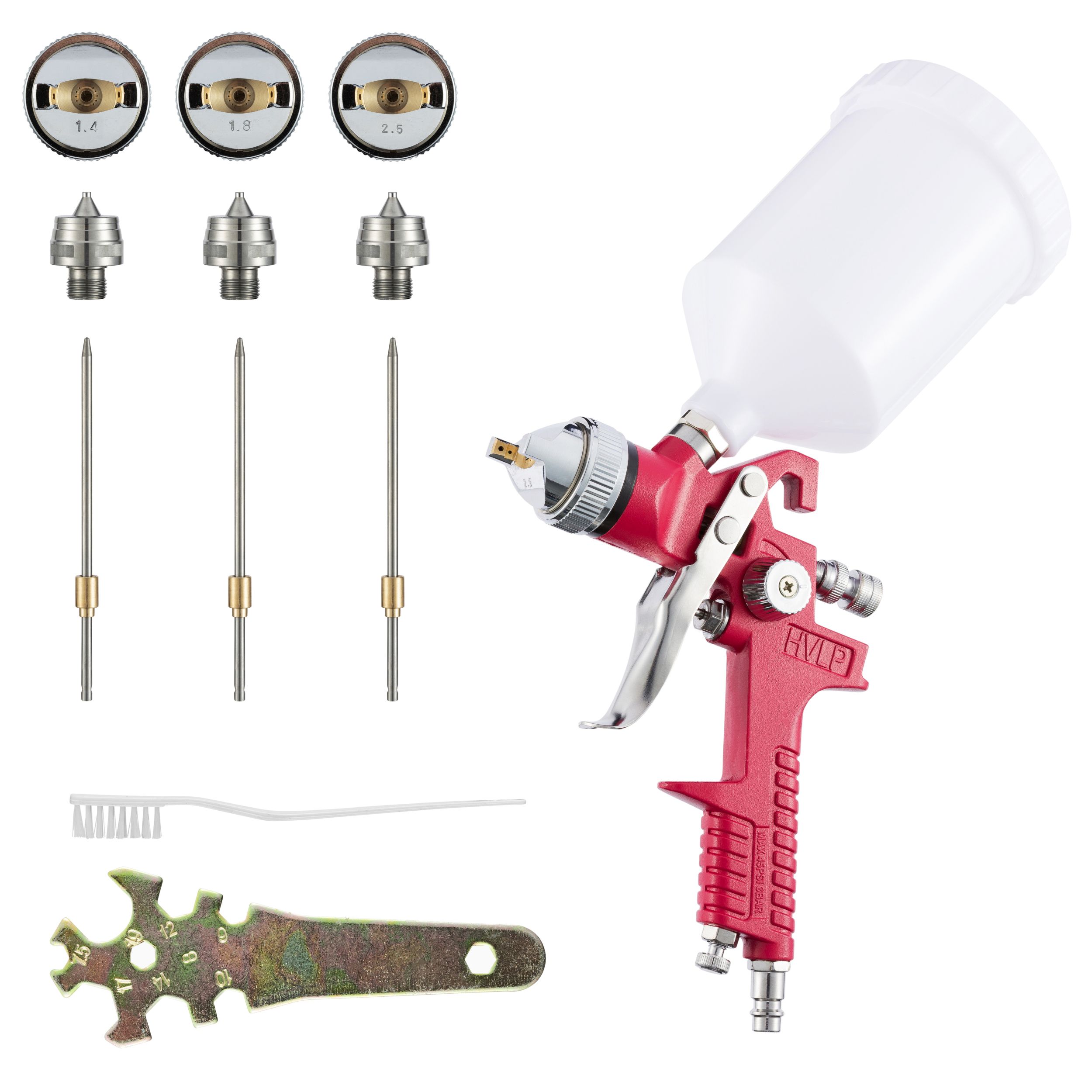 Spray gun 094 -> 1.4 + 1.8 + 2.5 mm
---
Ready for shipping, delivery in 48h
---
| | |
| --- | --- |
| Model | BB-094 |
| Content | 1 piece |
| Dimensions | 228×134×128mm |
| Net weight | 960 g |
| Weight | 960 g |
1.4 + 1.8 + 2.5 mm nozzle size - range of application: 1.4mm nozzle for clearcoat, waterborne paint and 2K-Unilack; 1.8mm nozzle for primer, filler, undercoat; 2.5 mm nozzle for spray filler
FOR HOMEWORKERS - developed by a professional painter who has taken care of all the fine details. The knobs respond smoothly, without jerkiness - like other cheap spray guns.
HVLP TECHNOLOGY - HLVP stands for High Volume Low Pressure - this means that the BenBow spray gun delivers a spray mist with high paint or varnish coverage and provides an excellent spray pattern.
ROBUST CONSTRUCTION - the body is made of high quality aluminium, the needle and tip are made of stainless steel. The spray gun has no O-rings, all seals are Teflon coated. The nozzle and air hose connection are easily replaceable.
DELIVERY: Spray gun BenBow Classic 094, metal nozzles 1.4 + 1.8 mm (nozzle, needle, cap), + 2.5mm (nozzle, needle, cap), 600 ml plastic cup, brush, compressed air coupling. Working pressure: 3-4 bar, air consumption: 300 l/min, weight: 700 g
| | |
| --- | --- |
| ${ variationProperty.names.name } | ${ variationProperty.values.value } |
| ${ variationProperty.names.name } | ${ variationProperty.values.value } |
| ${ variationProperty.names.name } | ${ variationProperty.values.value } |
| ${ variationProperty.names.name } | ${ variationProperty.values.value } |
| ${ variationProperty.names.name } | ${ variationProperty.values.value } |
| ${ variationProperty.names.name } | ${ variationProperty.values.value } |
| ${ variationProperty.names.name } | ${ variationProperty.values.value } |
| ${ variationProperty.names.name } | ${ variationProperty.values.value } |
| ${ variationProperty.names.name } | ${ variationProperty.values.value } |
| ${ variationProperty.names.name } | ${ variationProperty.values.value } |
| ${ variationProperty.names.name } | ${ variationProperty.values.value } |
| ${ variationProperty.names.name } | ${ variationProperty.values.value } |